hari ni agak penat sikit.. pagi tadi pegi bangi nak amik lesen L, lepas tu pergi ronda
2
di bandar bangi dengan sepasang kaki coz masa tu tayar kereta tgh tukar (sangat botak tayar
2
itu, suda tiada seri lagi)

lepas tu pegi singgah mydin pulak sebabnya semata
2
nak beli buah tembikai, tapi alang
2
da masuk tu bukan setakat tembikai la yang dibeli.. oren,epal,sayur,tauhu pon masuk sama.. ;p saya memang cukup tak suka pegi mydin masa weekend.. mana taknya, dalam tu penuh betul dgn rakyat.. da la mydin ni sempit, tak penah la pulak jumpa mydin yang luas ala
2
tesco @ giant.. paling angin sekali masa que nak bayar, orang beraturnya panjang semacam je.. geram + tension =


petang
2
pulak, lepas asar camtu kuar lagi pegi alamanda, semalam pon pegi alamanda jugak dengan aqmal pegi tengok harry potter.. ;p and hari ni pulak coz nak beli hanfon tuk aqmal.. dapat hanfon baru lagi budak tu..

errrr.... agak panjang mukadimahnye kan? cam tak de ura
2
nak sentuh sal tajuk entry kali ni pon..

okay, sekarang baru kita masuk.. kat sini ada sikit benda yang nak share kat u'ols.. secret di sebalik alphabet yang kita sangat arif,bijak,pandai lagi saksama ni.. budak tak masuk tadika pon da hafal n memang yakin bila sebut satu
2
mengikut susunan yang betul..
ehem..ehem..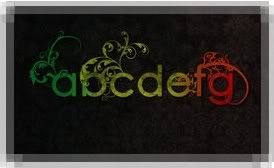 do you know the meaning of :

A

B

C

D

E

F

G

is actually
A

B

oy

C

an

D

o

E

verything

F

or

G

irl...
and we reverse :

G

F

E

D

C

B

A

is
G

irls

F

orgot

E

verything

D

one &

C

atches new

B

oy

A

gain...
quite surprising isn't it?
ok.. that's all.. papai~

p/s : just tau sampai G je..if u'ols tau sambungannya sharing
2
lah kat sini..
sharing is caring rite?
p/s/s : harry potter pandai wat kelakar jugak rupa
2
nya yer.. i like!
p/s/s/s : aqmal(adik) tukar hanfon coz the old one rosak screen.. sian dia..